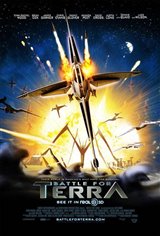 Battle for Terra
Mala (voice of Evan Rachel Wood) is a precocious girl living on the beautiful planet Terra, a place where peace and tolerance are celebrated. Unbeknownst to Mala and her fellow Terrians, the last inhabitants of Earth have exhausted the resources of their planet and those of three others, and are now searching for a new home. This Earthforce has discovered that the use of a Terraformer will make Terra habitable for humans but poisonous for Terrians.
When the Earthlings embark on a hostile invasion of Terra, Mala's father, Roven (voice of Dennis Quaid), is kidnapped. Hoping to save her father, Mala captures and hides a crashed human pilot named Jim (voice of Luke Wilson). While Mala nurses Jim back to health, the two forge a friendship and a plan that could save both the human race and the planet of Terra.
Soon, however, they realize that peace will not be secured unless they can combat both the Terraformer and dark political forces that will stop at nothing in their drive to achieve power for power's sake.