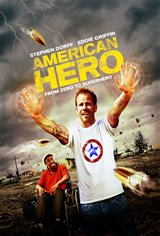 American Hero
Melvin (Stephen Dorff) has telekinetic abilities but rather than embracing them, he's spent years using them as party tricks, devoting his energy instead to pursuing booze, drugs and women. A slacker who lives with his mother and sister, Melvin has failed at nearly everything in life.
When he survives a brush with death, Melvin vows to set his life straight, including being a father to his young son, whose mother, his ex-wife, has not let him see much of due to his hard partying ways.
Enlisting the help of his best friend, a disabled war veteran named Lucille (Eddie Griffin) as his sidekick, he attempts to fight crime and clean up the streets of New Orleans using his abilities.