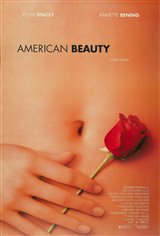 American Beauty
Kevin Spacey plays Lester Burnham, a middle aged man suffering from a mid-life crisis. He has an epiphany when he lays his eyes on one of his daughter Jane's friends. Woken from his suburban coma, he takes it upon himself to make a few changes -- like quitting his job and buying the car of his dreams. His wife, Carolyn (Annette Bening), is a frustrated control freak who is only maddened by his escalating freedom, and his daughter (Thora Birch) just plain hates him. His wife's reaction to the situation is to fall in the arms of a colleague (Peter Gallagher).

The chaos in the neighborhood becomes more complicated with the arrival of an equally dysfunctional family consisting of a stern ex-Marine, his vacuous wife and their detached, drug-dealing son Ricky, who becomes involved with Jane.

Received eight Academy Award nominations, winning five: Best Picture, Best Actor in a Leading Role, Best Director, Best Cinematography and Best Original Screenplay.
| | |
| --- | --- |
| Cast: | Kevin Spacey, Annette Bening, Thora Birch, Wes Bentley, Mena Suvari, Peter Gallagher, Allison Janney, Scott Bakula, Sam Robards, John Cho, Barry Sherman, Ara Celi, Fort Atkinson, Sue Casey, Kent Faulcon, Lisa Cloud, Alison Faulk, Krista Goodsitt, Lily Houtkin, Carolina Lancaster, Romana Leah, Chekesa van Putten, Emily Zachary, Nancy Anderson, Reshma Gajjar, Stephanie Rizzo, Heather Sher, Chelsea Hertford |
| Director: | Sam Mendes |
| Studio: | Universal Pictures |
| Producer(s): | Bruce Cohen, Dan Jinks |
| Writer(s): | Alan Ball |
| Official Site: | www.dreamworks.com/ab/ |