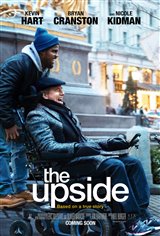 The Upside
| 148 Reviews
Write a Review
In Theaters: January 11, 2019
On DVD/Blu-ray: May 21, 2019
The Upside
When Park Avenue billionaire Phillip Lacasse (Bryan Cranston) is paralyzed after a hang-gliding accident, he hires unqualified ex-con Dell Scott (Kevin Hart) as his caretaker. Phil, who recently lost his wife to cancer, has lost the will to live and Dell is the best candidate to carry out the Do Not Resuscitate edict he's asked for, should his health deteriorate.

Although they come from two completely different worlds and backgrounds, Phil and Dell form an unlikely friendship, with Phil introducing Dell to high society with opera, fast cars and art and giving him stable financial footing with decent paychecks, while Dell shares with his employer the music of Aretha Franklin, and the tastiness of hot dogs and soft serve ice cream.

Based on the hit French movie The Intouchables.