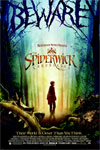 The Spiderwick Chronicles
From the beloved best-selling series of books comes The Spiderwick Chronicles, a fantasy adventure that reveals the rest of the world around us.

Peculiar things start to happen the moment the Grace family (Jared, his twin brother Simon, sister Mallory and their mom) leave New York and move into the secluded old house owned by their great-great-uncle, Arthur Spiderwick.

Unable to explain the strange disappearances and accidents that seem to be happening on a daily basis, the siblings investigate what's really going on and uncover the extraordinary truth of the Spiderwick estate and the creatures that inhabit it.


| | |
| --- | --- |
| Cast: | Freddie Highmore, Mary-Louise Parker, Nick Nolte, Joan Plowright, David Strathairn, Seth Rogen, Martin Short, Sarah Bolger |
| Director: | Mark Waters |
| Studio: | Paramount Pictures |
| Producer(s): | Mark Canton, Larry Franco, Elaine Goldsmith-Vein, Karey Kirkpatrick |
| Writer(s): | Karey Kirkpatrick, David Berenbaum, John Sayles |
| Official Site: | www.spiderwickchronicles.com |