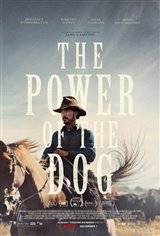 The Power of the Dog
Phil Burbank (Benedict Cumberbatch) is a charismatic and beguiling man capable of inducing both fear and awe from those around him. In town one day he comes across the widowed proprietress Rose (Kirsten Dunst) and her son Peter (Kodi Smit-McPhee), but his cruel behavior towards them drives them to tears. In response to this, Phil's brother George (Jesse Plemons) comforts them and later goes on to marry Rose.
Now sharing a home with Phil, Rose and Peter do their best to remind themselves that Phil is just a man, despite his cruel tendencies. However, Phil's attention towards the two takes a curious turn. Phil remains just on the edge of Rose's vision, while whistling a tune that haunts her, and also taking Peter under his wing. Whether this action is a softening of Phil's attitude towards them or something more sinister remains to be seen.
| | |
| --- | --- |
| Cast: | Benedict Cumberbatch, Kirsten Dunst, Jesse Plemons, Kodi Smit-McPhee, Frances Conroy, Keith Carradine, Thomasin McKenzie |
| Director: | Jane Campion |
| Studio: | Netflix |
| Producer(s): | Emile Sherman, Iain Canning, Jane Campion, Roger Frappier, Tanya Seghatchian |
| Writer(s): | Jane Campion |
| Official Site: | netflix.com/title/81127997 |