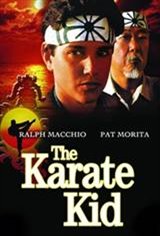 The Karate Kid (1984)
Teenager Daniel (Ralph Macchio) reluctantly moves with his mother from Newark, New Jersey to Reseda in Los Angeles when she gets a new job. Once they move into their new apartment, he gets an invite to a beach party. On the beach, Daniel spots Ali (Elisabeth Shue) and immediately falls for her. The feeling is mutual, and Daniel is enjoying himself, until Ali's jealous ex-boyfriend Johnny (William Zabka) and his gang, who train at a local karate studio known as Cobra Kai, arrive. Johnny insists on talking to Ali and when she refuses, he takes her boom box. Daniel steps in the middle and a fight breaks out. Daniel finds himself face down in the sand and finds he's now a target when school begins.
After a Halloween party, Johnny and his pals pursue Daniel and attack him, leaving him nearly unconscious. Mr. Miyagi (Pat Morita), the apartment handyman whom Daniel is friendly with, steps in and takes down the bullies. He agrees to teach Daniel the true form of karate, not the violent and sadistic approach that Cobra Kai teaches.