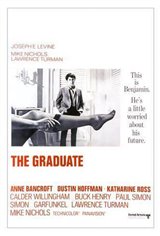 The Graduate
When 21-year-old Benjamin Braddock (Dustin Hoffman) returns home from college, his parents throw him a graduation party. At the end of the night, he is asked to drive Mrs. Robinson home; she is the wife of his father's law partner.
When she invites him into the house, she tries to seduce a very nervous Benjamin. A few days later, he agrees to her offer and the two meet at a hotel, beginning their affair.
The plot gets a weird twist when Benjamin is set up on a date with Mrs. Robinson's daughter Elaine, thanks to his father and Mr. Robinson. Benjamin begins to fall in love with Elaine, but when she finds out about his affair with her mother, a whirlwind of romances take place.
| | |
| --- | --- |
| Cast: | Anne Bancroft, Dustin Hoffman, Katharine Ross, William Daniels, Murray Hamilton, Elizabeth Wilson, Brian Avery, Walter Brooke, Norman Fell |
| Director: | Mike Nichols |
| Studio: | United Artists |
| Producer(s): | Joseph E. Levine |
| Writer(s): | Calder Willingham, Buck Henry |