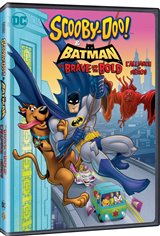 Scooby-Doo! & Batman: The Brave and the Bold
The team from Mystery, Inc. — Scooby-Doo, Shaggy (Frank Welker), Fred (Frank Welker), Daphne (Grey DeLisle) and Velma (Kate Micucci) — are surprised when they learn Batman (Diedrich Bader) wants to team up with them. 

With plenty of snacks in tow, the crime-fighters encounter classic Batman villains (Joker, Catwoman, Riddler, Penguin, Scarecrow, Poison Ivy, Harley Quinn) and allies (The Question, Aquaman, Plastic Man, Martian Manhunter), along with a bevy of fiends from Scooby-Doo lore (Spooky Space Kook, Gentleman Ghost, Miner 49er, Ghost Clown).