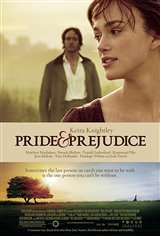 Pride & Prejudice
An adaptation of Jane Austen's classic novel about sisters trying to make their way in 19th century England.

Elizabeth Bennett (Keira Knightley) is the second of five sisters from a well-off but lower class family. Their mother is anxious to marry them off to wealthy young gentlemen, but when they meet Mr. Darcy (Matthew Macfadyen), an eligible, wealthy young man, his arrogance makes him undesirable, especially to Elizabeth, who is the target of his rudest comments.

When her older sister Jane falls in love with Mr. Darcy's best friend Mr. Bingley, Lizzie finds herself having to be in Darcy's presence more than she would like. She befriends Mr. Wickham, who also doesn't view Mr. Darcy in a positive light. However, as the events unfold, Mr. Wickham turns out to be not quite as charming as Lizzie initially believes… and Mr. Darcy not quite as odious.


| | |
| --- | --- |
| Cast: | Keira Knightley, Matthew Macfadyen, Jena Malone, Judi Dench, Brenda Blethyn, Donald Sutherland, Carey Mulligan, Claudie Blakley, Cornelius Booth, Sylvester Morand, Janet Whiteside, Sinead Matthews, Roy Holder, Samantha Bloom, Moya Brady, Jay Simpson |
| Director: | Joe Wright |
| Studio: | Focus Features |
| Producer(s): | Tim Bevan, Paul Webster, Eric Fellner |
| Writer(s): | Lee Hall, Deborah Moggach |
| Official Site: | www.prideandprejudicemovie.net |