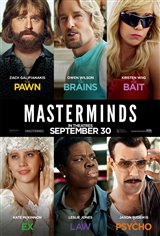 Masterminds
David Ghantt (Zach Galifianakis), a hapless armored vehicle guard, yet he always felt like he was meant for a live of adventure. David finally gets his wish when he meets Kelly (Kristen Wiig). She lures him into executing a $17 million heist for both herself and her group of double-crossing, half-brained criminals. They betray David and take off with the cash and frame him to take the fall.
David is forced to go on the lam, dodge authorities and try to spin the scheme back on his manipulative comrades.
Based on a true story.