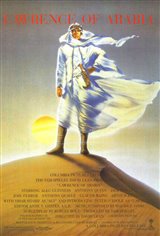 Lawrence of Arabia
A young intelligence officer in 1916 Cairo, Thomas Edward Lawrence (Peter O'Toole) is given leave to investigate the progress of the Arab revolt against the Turks in World War I.
He organizes a guerrilla army and leads the Arabs in desert raids and attacks against the Turks. Eventually, he leads his army north in an effort to destroy the power of the Ottoman Empire.
Years later, he seeks anonymity as a soldier under a new name.
| | |
| --- | --- |
| Cast: | Peter O'Toole, Alec Guinness, Anthony Quinn, Jack Hawkins, Omar Sharif, Claude Rains, Anthony Quayle, Arthur Kennedy, Donald Wolfit, I.S. Johar, Michel Ray, Zia Mohyeddin, John Dimech, Howard Marion-Crawford, Jack Gwillim, Hugh Miller |
| Director: | David Lean |
| Studio: | Columbia Pictures |
| Producer(s): | Sam Spiegel, Robert A. Harris, David Lean, Robert Harris |
| Writer(s): | Robert Bolt, Michael Wilson |