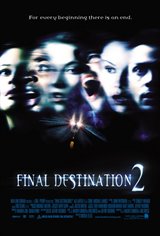 Final Destination 2
Clear Rivers (Larter) is the only survivor of the crash of Flight 180 left alive. Locked away by her own choice in the perceived safety of a psychiatric hospital, Clear now lives in constant terror that Death is coming to claim her, as it did all her friends. Clear may be considered crazy, but she's not wrong. Death is moving toward suburban Route 23, heading south.

En route to a weekend getaway with her friends, Kimberly Corman (Cook) watches helplessly as a logging truck careens out of control and loses its deadly payload, setting off a horrifying chain reaction that leaves twisted metal and dead bodies in its wake -- including her own. A moment later, Kimberly finds herself still stuck in on-ramp traffic, with a line of commuters she saw die moments before trailing her. It was only a vision. But was it also a warning? Shocked into action, Kimberly blocks the cars from joining the traffic on Route 23 as a young police trooper arrives on the scene. The commuters begin to honk and complain... until Kimberly's premonition comes powerfully and tragically to life before their eyes.

Death tears up the highway in a massive pile-up, with those left on the onramp narrowly escaping with their lives. But Kimberly knows it's not over. Death won't be cheated so easily. Now this random group of strangers, who in Kimberly's vision were meant to die in the freeway disaster, must join her in a thrilling race against time and their own paralyzing fear to do what all but one of the survivors of Flight 180 couldn't -- stay alive.