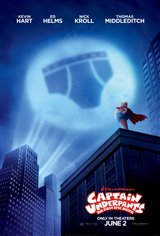 Captain Underpants: The First Epic Movie 3D
Mischievous class clowns George (Kevin Hart) and Harold (Thomas Middleditch) create a comic book centered on the superhero Captain Underpants. After they hypnotize their mean principal Mr. Krupp (Ed Helms), however, Captain Underpants becomes part of their reality. He's elastic-banded and kind-hearted, entirely different from the evil principal they loathed.
Adapted from the popular children's novel series by Dav Pilkey.