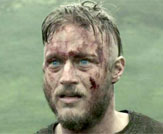 Travis Fimmel Biography
Date of Birth: July 15, 1979
Travis Fimmel is an Australian actor who's worked in the industry for over 10 years and is best known for his role in the History Channel series Vikings.
Born near Echuca, Victoria, Travis is the youngest of three brothers raised on an over 5,000-acre dairy farm. After graduating from high school, he attended Melbourne University — however, he eventually dropped out in order to travel Europe. While bartending in London, he met his manager, David Seltzer, who suggested he move to America to become an actor. Travis did so, immediately moving to Los Angeles to study with acting coach Ivana Chubbuck.
The young actor struggled to find work, turning to modeling to make money. He signed with the prestigious Chadwick Modeling Agency, and modeled for brands like Calvin Klein and publications like People Magazine.
Travis got his big break in 2003, landing the lead role as Tarzan in the WB series Tarzan. Unfortunately, the show only lasted eight episodes. After years of struggle and roles in a handful of short-lived series, Travis landed his first feature film, Surfer, Dude, quickly followed by the Australian thriller Restraint.
Over the next few years, Travis would appear in movies like Needle(2010), The Experiment(2010), The Baytown Outlaws (2012), and Harodim(2012). But it wasn't until 2013 that the rising star would earn the role that would mark his career: leading man Ragnar Lothbrok in the History Channel's massively popular series Vikings.
Travis can also be seen as Sir Anduin Lothar in the fantasy reboot Warcraft and as Guy in the romantic comedy Maggie's Plan.
Filmography:
All Quiet on the Western Front
(2017)
Inversion
(2017)
Warcraft
(2016)
Maggie's Plan
(2016)
Harodim (2012)
The Baytown Outlaws
(2012)
The Experiment
(2010)
Ivory (2010)
Needle (2010)
Pure Country 2: The Gift
(2010)
Restraint (2008)
Surfer, Dude
(2008)
Filmography