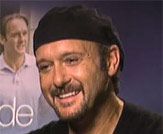 Tim McGraw Biography
TIM MCGRAW
Date of Birth: May 1, 1967
Tim McGraw was raised in Start, Louisiana by his mother, Betty Trimble, and his stepfather, Horace Smith. Tim believed Smith was his birth father until he was 11, when he saw major league pitcher Tug McGraw listed on his birth certificate as his father. When His mother confirmed McGraw was his real father, Tim changed his last name from Smith.
A talented ball player himself, Tim attended Northeast Louisiana on a baseball scholarship. However, his interest slowly turned towards music, when he learned to play guitar and began performing in local nightspots. In 1989, he dropped out of college to pursue a musical career in Nashville. He was discovered busking for tips in front of a hot dog stand.
He first hit pay dirt in 1994 with the song "Indian Outlaw." Since then, he's had numerous multi-platinum albums. In 1996, Tim's Spontaneous Combustion tour found him paired with country singer Faith Hill, whom he married later that same year.
Tim made his acting debut with a guest appearance on The Jeff Foxworthy Show, then played Sheriff Cliff Powers in the indie film Black Cloud (2004), written and directed by Rick Schroder. Later that year, Tim made his major motion picture debut with a role in Friday Night Lights (2004), starring Billy Bob Thornton.
His first starring role came in Flicka (2006), playing a rancher father who has trouble with his horse-crazy teenage daughter, played by Alison Lohman. He followed that up with a strong performance as Sandra Bullock's husband in The Blind Side. In Country Strong, Tim played the manager/husband of a country singer played by Gwyneth Paltrow. More recently, he appeared in Tomorrowland (2015) alongside George Clooney and in The Shack (2017) with Sam Worthington and Octavia Spencer.
In 2002 Tim was honored to be invited to be a part of the Red Cross National Celebrity Cabinet. His awards include two Grammy Awards and the 2004 People's Choice Award for Favorite Male Musical Performer. In October 2006 he was awarded a Star on the Hollywood Walk of Fame for Recording at 6901 Hollywood Boulevard.
McGraw and his wife Faith, who has an equally successful career, have three children.
Filmography:
Tomorrowland (2015)
Country Strong (2011)
The Blind Side (2009)
Four Christmases (2008)
The Kingdom (2007)
Flicka (2006)
Friday Night Lights (2004)
Black Cloud (2004)
Filmography