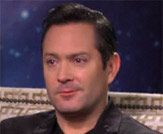 Thomas Lennon Biography
THOMAS LENNON
Date of Birth: August 9, 1970
His name might not be all that familiar but Thomas Lennon is a face you will recognize in an instant. A talented writer and comedian from Oak Park, Illinois, Lennon attended the Tisch School of the Arts at New York University, where he co-founded the influential sketch comedy group The State. The State's eponymous hit television series ran on MTV for three seasons, and received an ACE Award nomination for Best Comedy Series. After his work on The State, Lennon and his partner, Robert Ben Garant, created two more hit shows: Viva Variety, which ran for three seasons and was also an ACE Award nominee for Best Comedy Series; and Reno 911!, on which he also plays Lt. Jim Dangle. Reno 911! has run for six seasons and is syndicated around the world.
As an actor, Lennon has appeared in numerous films, including Herbie: Fully Loaded, Hancock, Conversations with Other Women, Memento, I Love You, Man, We're the Millers, and Knight of Cups. In 2017, he acted alongside newcomer Lucas Till in the live-action/animated adventure Monster Trucks. More recently, he played supporting roles in The 15:17 to Paris (2018), directed by Clint Eastwood, and the heartwarming comedy Dog Days (2018).
As a writer, he has written for the television series The State, Reno 911!, Viva Variety, and Strangers with Candy. He is also the author of four of IFC's 50 Greatest Comedy Sketches of All Time.
Lennon and Robert Ben Garant have written nine feature films together, including: Night at the Museum, Night at the Museum: Battle of the Smithsonian, Reno 911!: Miami, Balls of Fury and The Pacifier.
Filmography:
Dog Days (2018)
The 15:17 to Paris (2018)
Monster Trucks (2017)
Knight of Cups (2015)
We're the Millers (2013)
The Dark Knight Rises (2012)
What to Expect When You're Expecting (2012)
What's Your Number? (2011)
Bad Teacher (2011)
Eden Court (2010)
Night at the Museum: Battle of the Smithsonian (2009)
17 Again (2009)
I Love You, Man (2009)
Hancock (2008)
Balls of Fury (2007)
Eden Court (2007)
Reno 911!: Miami (2007)
The Ten (2007)
Conversations with Other Women (2005)
Herbie: Fully Loaded (2005)
The Hitchhiker's Guide to the Galaxy (2005) (voice)
Heights (2005)
Le divorce (2003)
How to Lose a Guy in 10 Days (2003)
A Guy Thing (2003)
Boat Trip (2002)
Out Cold (2001)
Memento (2000)
Filmography