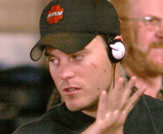 Rawson Marshall Thurber Biography
RAWSON MARSHALL THURBER
Date of Birth: February 9, 1975
Born and raised in San Francisco, California, Rawson Marshall Thurber graduated from Union College with a BA in English and Theater Arts. He then earned an MFA in producing from the University of Southern California.
He wrote and directed the short comedy piece, Terry Tate, Office Linebacker (2002), which premiered at the Sundance Film Festival. The film was then broken down into several TV spots for Reebok, with the first one airing during the 2003 Superbowl game. It went on to to win the Cannes Lions International Advertising Festival Golden Lion Award and was voted "Most Likeable Ad of 2003" by USA Today.
Thurber made his feature film writing and directing debut with the oddball comedy Dodgeball: A True Underdog Story (2004), starring Ben Stiller and Vince Vaughn. Some of his other films include The Mysteries of Pittsburgh (2009) and We're the Millers (2013).
Thurber lives in Los Angeles.
Filmography:
We're the Millers(2013)
The Mysteries of Pittsburgh(2009)
Dodgeball: A True Underdog Story(2004)


Filmography