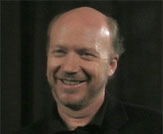 Paul Haggis Biography
PAUL HAGGIS
Date of Birth: March 10, 1953
Born in London, Ontario, Paul Haggis went to art school and studied photography. Hoping to become a fashion photographer, he moved to England, but after a year, returned to Canada and attended film school.
At 19, Haggis began writing plays for the local community theater. After graduating from film school, he decided to head directly for Los Angeles to try his luck in Hollywood. Working odd jobs during the day and using his spare time to study and write, he soon landed his first television writing job. Ironically, the offer came from Canada, not Hollywood. Haggis wrote the pilot and ten more episodes of the CBC sitcom Hangin' In.
Three years after moving to Hollywood, Haggis was noticed by producer Norman Lear and began working for the sitcom Diff'rent Strokes. He also worked for the sitcoms One Day at a Time and The Facts of Life before becoming not only a writer, but the supervising producer on the ABC series thirtysomething. For his participation on the show, he earned a Writer's Guild Award nomination and two Emmys.
Now a bonafide Hollywood success, Haggis was given the chance to create and write his own series. Unfortunately, his first effort, the CBS sitcom City starring Valerie Harper, lasted only 13 episodes. But in 1994, he would enjoy the biggest success of his career to date and ironically, it involved his return to Canada. Due South, set in Chicago but filmed in Toronto starring Canadian actor Paul Gross, was a truly unique series. Each hour-long episode was a blend of comedy and drama that struck a chord with audiences. Haggis won three Gemini awards in 1995 for the show—for Best Writing, Best TV Movie (for the pilot episode) and Best Dramatic Series. The next year, he won three more—again for Best Writing and Best Dramatic Series and this time, the show also received the Canada's Choice Award, voted for by TV viewers.
Haggis moved on to series such as EZ Streets (which he names as his favorite), Michael Hayes and Mister Sterling before making the decision to concentrate on feature films. He wrote the screenplay for Million Dollar Baby (2004), directed by and starring Clint Eastwood, as well as Hilary Swank and Morgan Freeman. The film received seven Academy Award nominations, including one for Haggis.
Next, he directed an original screenplay that he co-wrote, entitled Crash (2005), starring Sandra Bullock, Don Cheadle, Matt Dillon, Brendan Fraser, Thandie Newton and Ryan Phillippe. The film received rave reviews when it premiered at the Toronto International Film Festival and this time, Haggis received not only an Academy Award for Best Original Screenplay (he also received a Best Director nomination), but he was overwhelmed when he found that the film had won Best Picture.
Since then, he has written the screenplay for Clint Eastwood's next film, Flags Of Our Fathers, based on the book by James Bradley.
Involved in several charities and foundations, Haggis co-founded Artists for Peace and Justice and is a member of the Board of Directors of The Hollywood Education and Literacy Project. He is also a member of The President's Council of The Defenders of Wildlife and a member of the Advisory Board of The Center for the Advancement of Non-Violence.
Haggis has one child with current wife Deborah Rennard, and three children with first wife Diane. He lives in Los Angeles.
Filmography → Oscars™ Nominations and Awards
| | | | |
| --- | --- | --- | --- |
| Director | Crash (2005) | Best Director | Nominee |
| | | | |
| --- | --- | --- | --- |
| Producer | Crash (2005) | Best Director | Nominee |