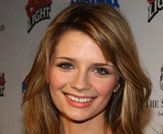 Mischa Barton Biography
MISCHA BARTON
Date of Birth: January 24, 1986
Born in London, Mischa Barton and her family moved to New York City when she was very small. She began acting at summer camp, where she was noticed by a casting director, who cast her in her first professional role in the play Slavs!, starring alongside Marisa Tomei and Joseph Wiseman. In Twelve Dreams at the Lincoln Center, she played Emma Hatrick, a child who predicts her own death through a series of dreams. Mischa made her television debut on the long-running soap opera All My Children, first playing the role Young Corvina, then later, she played Lily Benton, the autistic daughter of Jackson Montgomery and Laurel Dillon.
Mischa made her feature film debut playing a parochial school girl during the polio epidemic of the 1950s in Polio Water (1995). Her next role was as a precocious, wealthy child in New York Crossing (1996), opposite Giancarlo Giannini and Karen Black. In Lawn Dogs (1998), she played the lead role of Devon Stockard, a wealthy 10-year-old girl who develops a friendship with the neighborhood lawn worker. Next, she landed the leading role of Rocky in Pups (1999), in which two children decide to rob a bank, but when the robbery goes wrong, they end up holding hostages and negotiating with the FBI.
Although she didn't have many lines in the film, her first role in a big budget Hollywood film was playing a 12-year-old actress in Notting Hill, starring Julia Roberts and Hugh Grant. In The Sixth Sense (1999), Barton played a memorable role as the ghost of a little girl who had been poisoned. She has worked non-stop since, both in features and on television, including the telefilm Frankie & Hazel (2000), playing the title role of Frankie opposite Joan Plowright. In 2001 she landed a regular role on the TV series Once and Again, playing Katie Singer. Mischa then played Vicky in the Disney telefilm A Ring of Endless Light, based on the novel by Madeleine L'Engle. In Octane (2003), she played a teen who becomes a member of a cult.
Her biggest role to date however, was landing a starring on the hit Fox TV series The O.C.. As rich kid Marissa Cooper, who falls in love with Ryan, a kid from the wrong side of the tracks, she became a household name. To work on the show, she moved to Los Angeles from Manhattan, where she was living with her parents and two sisters.
In her spare time, Mischa enjoys reading, shopping, partying and spending time with her cat.
Filmography:
Assassination of a High School President
(2009)
Homecoming (2009)
Walled In (2009)
Don't Fade Away (2008)
You and I
(2008)
Closing the Ring
(2008)
St. Trinian's
(2007)
The Oh in Ohio (2006)
Octane (2003)
Tart (2001)
Julie Johnson
(2001)
Lost and Delirious
(2001)
Skipped Parts (2000)
Sixth Sense, The (1999)
Notting Hill
(1999)
Pups (1999)
Lawn Dogs (1997)
New York Crossing (1996)
Polio Water (1995)
Filmography