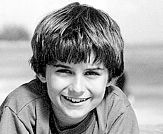 Miko Hughes Biography
Date of Birth: February 22, 1986
At 12 Miko Hughes was one of the most in-demand talents in Hollywood.
A seasoned veteran and total pro, Miko shared the screen with Arnold Schwarzenegger in Kindergarten Cop, Tom Hanks in Apollo 13, Chevy Chase and Jack Palance in Cops and Robbersons, the really creepy hero of Spawn, and Bruce Willis and Alec Baldwin in Mercury Rising. He's also taken direction from Ron Howard (a one-time kid star himself) in Apollo 13 and Danny DeVito in Jack The Bear.
Miko (which means "Chief" in Chicasaw -- Miko's a Native American) made his film debut at age two.
He played the knife-wielding, raised-from-the-dead son in Stephen King's Pet Sematary. (The entire movie is worth it just to see his priceless expression when he's finally killed off for good.)
When he's not acting, Miko's into video games and beekeeping.
Filmography:
Magic Rock (2001)
Escape to Grizzly Mountain (2000)
Fly Boy (1999)
Baby Geniuses (voice) (1998)
Mercury Rising(1998)
Spawn(1997)
Zeus and Roxanne (1997)
Apollo 13(1995)
Cops and Robbersons (1994)
Wes Craven's New Nightmare (1994)
Jack the Bear (1993)
Kindergarten Cop(1990)
Pet Sematary (1989)

Filmography