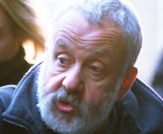 Mike Leigh Biography
MIKE LEIGH
Date of Birth: February 20, 1943
Multi-award winning director/writer Mike Leigh was born in Salford, Greater Manchester, England. A Royal Academy of Dramatic Art (RADA) graduate, almost every film Leigh has been involved with has won numerous awards. Ironically, his first film experience was as an actor, playing a small role in the British film Two Left Feet (1963), but he soon made a name for himself as a TV director in the late sixties. His feature film directorial debut, Bleak Moments (1971), won both the Golden Hugo at the Chicago Film Festival and the Golden Leopard at the Locarno Film Festival.
Through the seventies and early eighties, Leigh directed and wrote steadily for television. He wouldn't return to the big screen until High Hopes (1988), which won the Venice Film Festival Critics' prize. For Naked (1993), he won Best Director at Cannes Film Festival, but it was his next feature that would bring Leigh his greatest success.
Secrets & Lies (1996), about a successful black woman who finds out her birth mother is a working-class white woman, was not only a critical success, but it struck a chord with audiences around the world. In addition to multiple awards and nominations from international film societies and festivals, Leigh won a BAFTA award for Best Screenplay as well as receiving Oscar nods both for Best Director and Best Screenplay.
His next film was Topsy Turvy (2000), which won New York Film Critics Circle Awards for Best Picture and Best Director and earned Leigh another Oscar nomination for Best Screenplay. All or Nothing (2002), a simple story about a working class couple who experience an emotional journey when a tragedy occurs, won a London Critics Circle Film Award for British Film of the Year.
Vera Drake (2004), starring Imelda Staunton, is an emotionally-charged drama about a woman who flouted the law by performing abortions during the 1950s. The film won Leigh a Best Director British Independent Film Award as well as Academy Award nominations for Best Director and Best Original Screenplay.
The quality of his screenplays for his two following projects, Happy-Go-Lucky (2008) with Sally Hawkins and Another Year (2010) starring Jim Broadbent, earned him invitations to the Academy Awards as he was nominated for both in the Best Original Screenplay category.
Between the release of two more feature films—the historical dramas Mr. Turner (2014) and Peterloo (2019) — the Briton was awarded the prestigious BAFTA Fellowship Award for his contribution to the art of filmmaking.
Leigh, who was made an Officer of the British Empire in 1993, was married to actress Alison Steadman from 1973 to 2001. Divorced, he has two sons from his marriage.
Filmography → Oscars™ Nominations and Awards