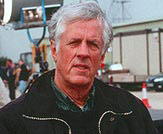 Michael Apted Biography
Born in Buckinghamshire, England, Michael Apted attended Cambridge University to study history and law. Following his education, he began working at Granada Television as a researcher. The job soon led to opportunities in directing and investigative reporting, both of which Apted took advantage of and became well-established in. Over the years, Apted worked on a number of popular shows including the long-running Coronation Street, won several BAFTA's for his work on The Lovers and Folly Foot, and compiled scores of credits.
In 1972, he made his feature film directorial debut with the war drama Triple Echo, followed by such features as Stardust (1974), The Squeeze (1977) and Agatha (1979). By the '80s, Apted crossed the pond to create his first American film. He released the international hit, Coal Miner's Daughter (1980), which became one of his most acclaimed films to date earning seven Academy Awards. As a result, he earned access to bigger stars and bigger budgets.
For the next two decades, Apted tackled a variety of films, but tried to alternate Hollywood movies with smaller, more personal projects and documentaries. His larger projects ranged from Continental Divide, the four-time Oscar nominated, Gorilla's in the Mist (1988), Thunderheart (1992), Nell (1994) to the 19th Bond film, The World is Not Enough (1999). His smaller projects include the adolescent comedy gem Kipperbang (1982), and the documentary Bring on the Night (1985).
He also directed The Chronicles of Narnia: The Voyage of the Dawn Treader (2010) and co-directed the film Chasing Mavericks (2012), a surfing movie starring Gerard Butler and Jonny Weston.
Not confined to the film industry, Apted made a large mark in the British television industry with his powerful unique series of documentaries - 7 Up, 7 Plus 7, 21, 28 Up, 35 Up, and 42 Up - which have followed the lives of 14 Britons since the age of seven - in seven-year increments. The most recent one was 63 Up, which was released in 2019.
Apted is married to third wife, producer Paige Simpson. He has three children from his first two marriages.
Filmography (director):
The Chronicles of Narnia: The Voyage of the Dawn Treader (2010)
Chasing Mavericks (2012)
56 Up (2012)
The Power of the Game (2007)
Amazing Grace (2006)
Enough (2002)
Enigma (2001)
The World Is Not Enough (1999)
Me & Isaac Newton (1999)
42: Forty Two Up (1998)
Inspirations (1997)
Extreme Measures (1996)
Nell (1994)
Moving the Mountain (1994)
Blink (1994)
Incident at Oglala (1992)
Thunderheart (1992)
35 Up (1991)
Class Action (1991)
Gorillas in the Mist: The Story of Dian Fossey (1988)
Critical Condition (1987)
28 Up (1985)
Bring on the Night (1985)
Firstborn (1984)
Gorky Park (1983)
Continental Divide (1981)
Coal Miner's Daughter (1980)
Agatha (1979)
The Squeeze (1977)
Stardust (1974)
Triple Echo (1973)
Filmography (producer):
It's a Shame About Ray (2000)
14 Up in America (1998)
42: Forty Two Up (1998)
Inspirations (1997)
Bram Stoker's Dracula (1992)
35 Up (1991)
28 Up (1985)
The River Rat (1984)
Filmography