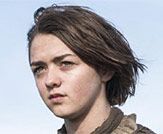 Maisie Williams Biography
Date of Birth: April 15, 1997
Maisie, the youngest in a family of four children, takes dance seriously, whether used for art or the balletic battle of fencing. Born in Somerset and raised in Bristol, England, Maisie started taking dance lessons at age 11, including tap, ballet, freestyle and pointe. She has also studied musical theater, gymnastics and trampolining. She attended Bath Dance College to study the Performing Arts.
Fitness and stamina is important and probably helped her land the role of youngest Stark daughter Arya, in the HBO series Game of Thrones at the age of 12. Much like Arya, Maisie has said she was neither popular nor considered a pretty girl in school but the important part of life for her was finding out who her real friends are.
Game of Thrones is Maisie's most popular role but she has also gone on to play roles in movies, including the 2014 films Corvidae, Gold and The Falling. Her television credits include three episodes of the series The Secret of Crickley Hall as Loren Caleigh.
More recent appearances include the TV movie Cyberbully (2015), the drama The Book of Love (2017) with Jessica Biel and Jason Sudeikis and the period drama Mary Shelley (2018) alongside Elle Fanning. In the animated comedy Early Man (2018), she provided the voice of the character Goona.
Maisie has also received several awards for her work, including two Portal Awards and a SFX Awards for best actress among others. Of the Game of Thrones cast, Maisie is closest to Sophie Turner who plays her sister Sansa on the series.
Filmography
Early Man
(2018)
Mary Shelley (2018)
The Book of Love (2017)
The Falling (2014)
Gold (2014)
Heatstroke (2013)
Filmography