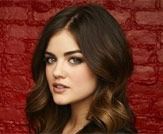 Lucy Hale Biography
NAME: LUCY HALE
DATE OF BRITH: June 14, 1989
Lucy Hale was born in Memphis, Tennessee. At the age of eight she began to express an interest towards singing, which prompted her parents to enroll her in a vocal class. When Lucy was 13, her family encouraged her to take her singing ability to the next level by auditioning for the new television series American Juniors. The singing completion was a spin-off of American Idol for children between the ages of five and 13. America voted for their favorite singers, which ultimately would form a five person pop band. Lucy was the fourth member to be voted into the band alongside Taylor Thompson, Tori Thompson, Chauncey Matthews and Danielle White.
The group made a CD and appeared on several shows including Entertainment Tonight, Slime Time Live and American Idol Christmas. A year later the group broke up and the series was cancelled. Discouraged, Lucy put her singing career on the back burner and focussed on becoming an actress.
In 2005 Lucy made her first guest appearance in the television series Ned's Declassified School Survival Guide. From there she appeared in Secrets of a Small Town (2006), Drake & Josh (2006) The O.C. (2006), American Family (2007) and How I Met Your Mother (2007). In 2007 Lucy was cast as Becca Sommers in eight episodes of NBC's short-lived series Bionic Woman. She then appeared in two episodes of Wizards of Waverly Place (alongside then-boyfriend David Henrie) and The Sisterhood of the Traveling Pants 2 (2008) before landing a lead role in CW's 2008 television series, Privileged. The show was canceled a year later after the ratings dropped dramatically.
Lucy finally got her big break when she landed a starring role in the hit ABC series Pretty Little Liars. The series, based on books about four girls coming together in hopes of finding out who murdered their best friend Ally, began airing in 2010. While starring in Pretty Little Liars, Lucy has also played roles in A Cinderella Story: Once Upon A Song (2011) and Scream 4 (2011).

More recently, she starred as Olivia in Blumhouse's Truth or Dare (2018).
Filmography
Dude (2018)
Blumhouse's Truth or Dare (2018)
The Unicorn (2018)
A Cinderella Story: Once Upon a Song (2011)
Scream 4 (2011)
Sorority Wars (2009)
Fear Island (2009)
Sisterhood of the Traveling Pants 2 (2008)
Filmography