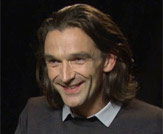 Justin Chadwick Biography
JUSTIN CHADWICK
Date of Birth: 1968
Born in Manchester, England, Justin Chadwick started out as an actor. In 1993 he made his small screen directorial debut with the TV movie Family Style starring Ewan McGregor. He then both directed and acted in Shakespeare Shorts, an informational series in which actors look at the history of a Shakespeare character and then play the character in a key scene.
Chadwick's feature film debut was the crime drama Sleeping with the Fishes (1997), but it wasn't released for 10 years. He turned back to television, directing episodes of The Bill (1999), Helen West (2002), Spooks (2002), Red Cap (2004), Murder Prevention (2004) and the mini-series Daylight Robbery 2 (2000).
His direction of the drama serial Bleak House (2005) garnered him the most recognition to date, earning him a BAFTA TV Award and an Emmy nomination. His success vaulted Chadwick into the big leagues, earning him the opportunity to helm the major feature film The Other Boleyn Girl (2008), starring Natalie Portman, Scarlett Johansson and Eric Bana. He followed that up with the indie drama, The First Grader (2010) with starring Naomie Harris.
His latest credits include the TV movie Stolen (2011), the Oscar-nominated Mandela: Long Walk to Freedom (2013) with Idris Elba, the Ruth Negga and Brendan Gleeson TV movie The Money (2014), and the period drama Tulip Fever (2017) with Alicia Vikander, Cara Delevingne and Dane DeHaan.
Filmography:
Tulip Fever (2017)
Mandela: Long Walk to Freedom (2013)
The First Grader (2010)
The Other Boleyn Girl (2008)
Sleeping with the Fishes (1997)
Filmography