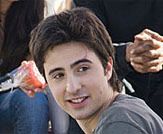 Josh Zuckerman Biography
JOSH ZUCKERMAN
Date of Birth: April 1, 1985
The youngest of five children, Josh Zuckerman began acting at the age of 10 at the Los Altos Youth Theater in Los Altos, California. He made his professional debut in the ABC TV movie Gepetto (2000), starring Drew Carey. He went on to recurring roles in ABC's acclaimed hour-long dramas Once and Again and NYPD Blue.
Zuckerman has made numerous television appearances on shows such as The West Wing, Judging Amy, That's Life, Get Real, The Nightmare Room, House, CSI Miami and Boston Legal.
His feature film debut was in Austin Powers in Goldmember (2002), playing Young Dr. Evil. That was followed by Surviving Christmas (2004), in which he was the teenage son of the family Ben Affleck hires to be his family for the holidays. He was then directed by Robert Redford in Lions for Lambs (2007), which also starred Meryl Streep and Tom Cruise.
Zuckerman landed his first feature film starring role in Sex Drive (2008), playing a high school senior who drives across the country to hook up with a girl he met online. He also plays the recurring role of Mark, a university student, on the hit ABC Family Channel series Kyle XY. When he's not working, Zuckerman is enrolled at Princeton University.
Filmography:
Sex Drive (2008)
Lions for Lambs (2007)
The Hottest State (2006)
Feast (2005)
Pretty Persuasion (2005)
Surviving Christmas (2004)
Austin Powers in Goldmember (2002)
Filmography