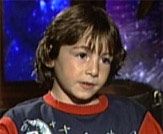 Jonah Bobo Biography
JONAH BOBO
Date of Birth: January 24, 1997
New York-born Jonah Bobo made his screen debut at the age of six in Showtime's The Best Thief in the World (2004), which made its debut at the Sundance Film Festival. Next, he played opposite Christopher Walken, Michael Caine and Josh Lucas in Around the Bend (2004).
Jonah played a role in Comedy Central's Strangers with Candy (2005), which also screened at the Sundance Festival, before making his feature starring debut as one of two brothers who find themselves in big trouble when a board game thrusts them into outer space in Zathura (2005).
Other credits include playing a role in Crazy, Stupid, Love. (2011) starring Steve Carell, and providing the voice of Austin in Nickelodeon's animated series The Backyardians and the voice of Tod in Fox and the Hound Two.
In his spare time, Jonah loves listening to music. He plays the piano and also is a huge baseball fan.
Filmography