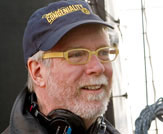 John Pasquin Biography
JOHN PASQUIN
Better known for his television work, John Pasquin started his entertainment career on the stage.
He spent ten years as an acclaimed off-Broadway and regional theater director, and was awarded an Obie for the well-received play, Moonchildren. Theater work also led to directing five productions for Joe Papp's Shakespeare Festival in New York.
In 1976, Pasquin made the change from theater to television, directing episodes of the popular and long-running series Alice. During the '80s, his time was spent directing episodes of other popular sitcoms including Gimme a Break!, Family Ties, Growing Pains, Thirtysomething and Roseanne. He also directed the drama L.A. Law, and a number of telefilms.
By the early '90s, Pasquin started working on a new television sitcom, Home Improvement. The show, starring comedian Tim Allen, became a huge success, lasting 8 years and earning Pasquin two Emmy nominations for Outstanding Comedy Series.
In addition to working on the hit series, Pasquin became good friends with the show's creator and star, Tim Allen.
The two continued to work together off the series and into feature film work like the popular The Santa Clause (1994), the dismal Jungle2Jungle (1997), and Joe Somebody (2001) (all of which starred Allen).
After concentrating on television work again for a few years, Pasquin returned to the big screen, directing Sandra Bullock in the sequel Miss Congeniality 2: Armed and Fabulous (2005).
Pasquin is married to actress JoBeth Williams.
Filmography:
Miss Congeniality 2: Armed and Fabulous(2005)
Joe Somebody(2001)
Small World(1999)
First Gentleman (1999)
Jungle2Jungle (1997)
The Santa Clause(1994)

Filmography