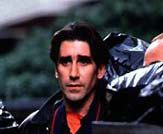 John Lynch Biography
JOHN LYNCH
Date of birth: December 26, 1961
"When I saw myself on the screen for the first time [Cal], I got sick -- well, it may have been something I'd eaten, but I didn't feel too well."
This Corrinshego, Newry, Northern Ireland native was the eldest of 5 children. He was educated in Saint Coleman's College in Newry and then went off to London to attend the Central School of Speech and Drama.
In only his second year in the London school he was cast in the lead role for the film Cal (1984), playing a young man on the fringes of the IRA. His performance was a success and he was nominated by the British Academy Awards for best actor.
After his success in Cal, he went onto other projects including film and television. Unfortunately for John, he wasn't able to gain a lead role again for some time. Instead he landed small roles in Hardware (1990), The Secret Garden (1993) and Princess Caraboo (1994) granted him little recognition for his acting talents. It wasn't until 1995 that he got his next starring role in the drama, Angle Baby. The film was a success and won a number of awards from the Australian film institute, including best actress for his costar, Jacqueline McKenzie.
The late '90 found John co-starring in a wave of semi-successful films including Nothing Personal (1995), Moll Flanders (1996) and Sliding Doors (1998) and The Quarry.
More recently, he appeared in Pilgrimage (2017) in the role of Brother Ciaran, alongside Tom Holland.
John, who lives in Dublin, was married to writer/director Mary McGuckian from 1997 to 2012.
Filmography:
Pilgrimage
(2017)
Conspiracy of Silence
(2005)
Evelyn
(2002)
3 Days of Rain (2000)
Best (1999)
The Quarry
(1999)
This Is the Sea (1998)
Sliding Doors
(1998)
Moll Flanders
(1996)
Some Mother's Son (1996)
Nothing Personal
(1995)
Angel Baby (1995/I)
Princess Caraboo (1994)
The Secret of Roan Inish (1994)
Words Upon the Window Pane
(1994)
In the Name of the Father
(1993)
The Secret Garden
(1993)
Edward II
(1991)
Out of the Blue (1991/I)
Hardware (1990)
1871 (1990)
Cal (1984)
Filmography