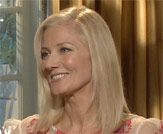 Joely Richardson Biography
Date of Birth: January 9, 1965
Born and raised in London, Joely Richardson comes from a long line of talented actors. Her mother is Vanessa Redgrave, and her father is the late director Tony Richardson. She is also the granddaughter of actors Michael Redgrave and Rachel Kempson, niece of actors Corin and Lynn Redgrave, and sister of actress Natasha Richardson. If that isn't enough, her brother-in-law is Liam Neeson.
However the genes were slow - as a child she saw her older sister Natashsa interested in acting but she was a tomboy, imagining a career in gymastics. She grew too far too fast, and gymnastics was out.
She considers herself a sort of honorary Yank, having attended boarding school in Santa Barbara California. She returned to England however to attend the Royal Academy of Dramatic Arts and soon after made her film debut in David Hare's Wetherby (1985), in which she played the character portrayed by her mother, Vanessa Redgrave, as a young girl.
Upon graduation, she joined the Royal Shakespeare Company and starred in such productions as A Midsummer Night's Dream, Macbeth and Worlds Apart, among others. Additional stage credits include Beauty and the Beast and Steel Magnolias. Her television work includes David Hare's Heading Home (1991) with Gary Oldman, Ken Russell's four-hour adaptation of D.H. Lawrence's Lady Chatterley's Lover (1992), The Echo and The Tribe (both 1998).
Beginning in the 80's film became her life, from small parts Wetherby (1985) to BBC dramas Lady Chatterley (1992) (TV) to film. Richardson's film credits range from the art-house favorite Drowning By Numbers (1988) -- in which she is one of three murderesses, all named Cissy Colpitts -- to the abortive musical I'll Do Anything (1993). But the role that put Richardson in the main streem was Disney's live action, 101 Dalmatians (1996), opposite Glenn Close and Jeff Daniels. She followed this film with another hit film, the sci-fi thriller, Event Horizon (1997).
Following the completion of her work on Return To Me, Richardson headed to South Carolina to star with Mel Gibson in The Patriot (both 2000), director Roland Emmerich's epic of the American Revolution. She continued to do films for a few years before landing a lead role on the television series Nip/Tuck. Richardson was on the show from its start in 2003 to its end in 2010. She then took on a recurring role in 2010 as Catherine Parr on the popular series The Tudors about the reign and marriages of King Henry VIII. It was a smart career move because following her stint on the show, she was cast as the young Queen Elizabeth I (her mother, Vanessa Redgrave, played the older version of the queen) in the film Anonymous (2011). Richardson also starred in the 2011 film version of the best-selling novel The Girl with the Dragon Tattoo and the thriller Red Lights (2012). She followed this up with roles in films like Thanks for Sharing (2012), starring Gwyneth Paltrow and Mark Ruffalo, Vampire Academy (2014), Endless Love (2014), and Maggie (2015) alongside Arnold Schwarzenegger. She most recently starred in the biopic Snowden (2016), the fantasy drama Fallen (2016), the crime drama The Hatton Garden Job (2016) and the comedy The Time of Their Lives (2017).
With her husband, producer Tim Bevan, Richardson bore a daughter, Daisy Bevan. The two separated in 1997.
Filmography:
The Time of Their Lives (2017)
The Hatton Garden Job (2016)
Fallen (2016)
Snowden (2016)
Papa Hemingway in Cuba (2015)
The Messenger (2015)
Maggie (2015)
Endless Love (2014)
Vampire Academy (2014)
The Devil's Violinist (2013)
Thanks for Sharing (2012)
Red Lights (2012)
The Girl with the Dragon Tattoo (2011)
The Christmas Miracle of Jonathan Toomey (2007)
The Last Mimzy (2007)
The Fever (2004)
Shoreditch (2003)
The Affair of the Necklace (2001)
The Patriot (2000)
Maybe Baby (2000)
Return to Me (2000)
Under Heaven (1998)
Wrestling with Alligators (1998)
Event Horizon (1997)
101 Dalmatians (1996)
Hollow Reed (1996)
Loch Ness (1995)
Sister My Sister (1994)
I'll Do Anything (1994)
Rebecca's Daughters (1992)
Shining Through (1992)
King Ralph (1991)
A proposito di quella strana ragazza (1989)
Drowning by Numbers (1988)
Body Contact (1987)
Wetherby (1985)
The Hotel New Hampshire (1984)
The Charge of the Light Brigade (1968) (uncredited)
Filmography