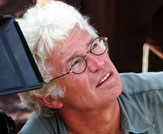 Jean-Jacques Annaud Biography
JEAN-JACQUES ANNAUD
Date of Birth: October 1, 1943
Born in Draveil, south of Paris, France, Annaud attended the prestigious L'Institut des Hautes Etudes Cinematographiques. He graduated at the age of 20 and quickly achieved success directing commercials.
Two years later he was sent to the French Cameroons as an Army Film Director by the National Service.
While in Africa, he trained locals to make their own movies while working on a series of educational films for the natives.
The experience convinced him to film his first feature, Black and White in Color, in Africa, and he took a year to raise the money.
His hard work paid off with an Oscar for Best Foreign Language Film in 1978.
Annaud's follow-up, Coup de Tête (or Hothead) (1979), established his reputation in France, and his next film Quest for Fire (1981), a unique story of primitive man set 80,000 years ago, won French Cesar Awards for Best Picture and Best Director.
He won the Cesar Award again directing Sean Connery in an adaptation of Umberto Eco's challenging novel The Name of the Rose (1986), set in the 13th century.
His next project made international stars out of a bear cub and a nine-foot two-inch Kodiak in The Bear (1989), which related the friendship of the two animals with virtually no dialogue.
In 1997, Annaud released one of his most controversial films, Seven Years in Tibet. Starring Brad Pitt, the film was panned by the critics and Annaud was barred from entering China due to creating this film, which told the story of China's invasion and continued occupation of Tibet.
He began the new millennium with a war thriller, Enemy at the Gates (2001), starring Jude Law, Joseph Fiennes, Rachel Weisz and Ed Harris.
He returned to working with animals when he wrote, produced and directed Two Brothers (2004), about twin tiger cubs who are separated by humans, then later reunited under trying circumstances.
Filmography:
Two Brothers(2004)
Enemy at the Gates(2001)
Seven Years in Tibet (1997)
Wings of Courage (1995)
The Lover (1991)
The Bear (1989)
The Name of the Rose (1986)
Quest for Fire (1981)
Coup de tête (1979)
Black and White in Color (1976)


Filmography