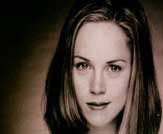 Heather Donahue Biography
HEATHER DONAHUE
Date of Birth: December 22, 1974
Six days with a 60-pound backpack, two men, one tent, no change of clothes and no shower. That was Heather Donahue's experience making The Blair Witch Project, the surprise thriller hit of 1999. Playing a pushy documentary film director who leads her colleagues to their demise, the film follows the three trekking in the woods in search of the Blair Witch of local legend. Grossing $50 million in its first week, Donahue went from office temping to two agents, a manager and a pick of TV and film scripts. Not bad for a film originally viewed as "a cool project, not a get famous movie."
Donahue had been preparing for her big chance since childhood. The oldest of three children she discovered center stage at age three during a dance recital in her hometown of Upper Darby, PA. She went on to study at the Walnut Street Theater School and earned a B.F.A. and several awards from the University of the Arts, where she cut her teeth on everything from Strindberg to Shakespeare, Genet to Mamet. In the U-Arts London apprenticeship program that she created, she appeared on stage at the Soho Theatre Company and Battersea Arts Centre. In New York, she has appeared in downtown and regional productions and was a member of the Red Shag Improv Comedy group and the experimental Collision Theory Theater Company.
Prior to Blair, her only other screen work was a low-budget coming-of-age film that was never finished. But it did serve to introduce her to her beau, writer-photographer Gregor Hrynisdak.
Filmography:
Boys and Girls (2000)
Home Field Advantage (2000)
Seven and a Match (2000)
The Blair Witch Project (1999)
Raw: Stripped to the Bone (1997) (V)
Filmography