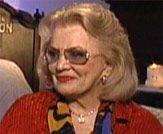 Gena Rowlands Biography
GENA ROWLANDS
Date of Birth: June 19, 1930
Known for her ability to play tough women, Gena Rowlands made her Broadway debut in The Seven Year Itch when she was just 18 years old. She then went to Hollywood where she started out with regular roles in TV series such as 87th Precinct and Peyton Place, then achieved success in films, earning two Oscar nominations for her work in A Woman Under the Influence and Gloria.
She married director/screenwriter John Cassavetes in 1954, but was widowed when he died in 1989 of cirrhosis of the liver. Their son, Nick Cassavetes, has followed in his father's footsteps and made his directing debut with Unhook the Stars (1986), starring his mother.
Rowlands won two Golden Globe awards, including one for Best Motion Picture Actress - Drama for A Woman Under the Influence (1974). She has also won three Emmy awards for her roles in the TV movies Hysterical Blindness (2002), Face of a Stranger (1991) and The Betty Ford Story (1987) and most recently won a Daytime Emmy award for the TV movie The Incredible Mrs. Ritchie (2003).
In motion picture The Notebook (2004), Rowlands was once again directed by her son, Nick, in the heartwarming romantic drama adapted from the book by Nicholas Sparks.
She lives in Los Angeles.
Filmography :
Paris, je t'aime (2006)
The Book of Joe (2005)
The Skeleton Key (2005)
The Notebook (2004)
Taking Lives (2004)
The Weekend (1999)
Playing by Heart (1998)
The Mighty (1998)
Hope Floats (1998)
Paulie (1998)
She's So Lovely (1997)
Unhook the Stars (1996)
Anything for John (1995)
The Neon Bible (1995)
Something to Talk About (1995)
Silent Cries (1993)
Once Around (1991)
Ted and Venus (1991)
Night on Earth (1991)
Another Woman (1988)
Love Streams (1984)
Tempest (1982)
Gloria (1980)
The Brink's Job (1978)
Opening Night (1977)
Two Minute Warning (1976)
A Woman Under the Influence (1974)
Minnie and Moskowitz (1971)
Faces (1968)
Intoccabili, Gli (1968)
Tony Rome (1967)
A Child Is Waiting (1963)
The Spiral Road (1962)
Lonely Are the Brave (1962)
The High Cost of Loving (1958)
Filmography