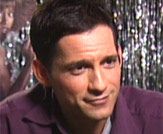 Enrique Murciano Biography
ENRIQUE MURCIANO
Date of Birth: July 9, 1973
Born and raised in Miami, Enrique Murciano was always interested in acting. After attending Tulane University and spending one year at the New England School of Law, he moved to Los Angeles where he studied acting at the Larry Moss Studio. Murciano obtained an agent and on his first audition, won the role of Alejandro in Speed 2 (1997), starring Sandra Bullock. A dry spell followed, but in 1999 he landed guest appearances on the TV shows Suddenly Susan and The Pretender. However, his big break came with a role in the Academy Award-winning film Traffic (2000), starring Michael Douglas.
The following year he played Sgt. Lorenzo Ruiz in Black Hawk Down (2002) and became a regular on the MTV series Spyder Games. When that show didn't last, he quickly landed the role of Danny Taylor in CBS-TV's drama series Without a Trace, which proved more successful, becoming the second highest rated new drama of the 2002/2003 season. In 2004, he shared a Screen Actors Guild Award nomination with four other cast members for Outstanding Performance by an Ensemble in a Drama Series.
While on hiatus from the series in 2004, he filmed the role of Jeff Foreman in Miss Congeniality 2: Armed and Fabulous (2005), which reunited him with Bullock, as well as a part in Andy Garcia's directorial debut, Lost City (2006), starring Dustin Hoffman and Bill Murray.
Murciano currently resides in Los Angeles but often returns to Miami, where his family still lives. He is an exotic car and motorcycle enthusiast and enjoys playing guitar and piano.
Filmography:
The Lost City(2006)
Miss Congeniality 2: Armed and Fabulous(2005)
Cafe and Tobacco (2003)
How to Go Out On a Date In Queens (2003)
Case 42 (2002)
Black Hawk Down(2002)
Traffic(2000)
Speed 2: Cruise Control(1997)


Filmography