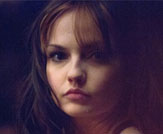 Emily Meade Biography
EMILY MEADE
Date of Birth: January 10, 1989
Emily Meade was born and raised in Manhattan, where she started acting at a young age. She was also interested in singing, and won the Zecchino d'Argento prize at the Italian singing contest Zecchino d'Oro, when she sang Up, Over, Through and Under at the age of seven. She is a graduate of the LaGuardia High School of Performing Arts, of which actor Al Pacino is an alumnus as well.
What first drew her to acting was her obsession with Lucille Ball and I Love Lucy, as well as Christopher Guest and Saturday Night Live. Although she was adamant about not wanting to be professional until she was 18 years old, her film debut came at 16, when she had a small role in the indie film The House is Burning, filmed in August 2015. Since then, she has had roles in films such as Assassination of a High School President (2008) starring Bruce Willis, Wes Craven's My Soul to Take (2010), Gimme Shelter (2013) with Rosario Dawson and Vanessa Hudgens and That Awkward Moment (2014) with Zac Efron.
Emily has also made guest appearances on TV shows such as Law & Order and Fringe. After becoming an actor, she discovered a desire to direct and write as well. She currently has a starring role on the HBO drama The Leftovers, and can be seen in the new crime mystery film, Nerve, alongside Emma Roberts.
For her role in the 2013 movie Bluebird, Emily won Best Actress at the Karlovy Vary International Film Festival. She is married to her high school sweetheart, Patrick Wilson (not the actor).
Filmography:
Nerve
(2016)
Money Monster
(2016)
Me Him Her (2015)
Charlie, Trevor and a girl Savannah (2015)
Gabriel (2015)
That Awkward Moment
(2014)
Gimme Shelter
(2013)
Bluebird
(2013)
Thanks for Sharing
(2012)
Sleepwalk with Me
(2012)
Adventures in the Sin Bin
(2012)
Young Adult
(2011)
Trespass
(2011)
Silver Tongues (2011)
My Soul to Take
(2010)
Burning Palms
(2010)
Twelve
(2010)
Back (2009)
Assassination of a High School President
(2008)
The House is Burning (2006)
Filmography