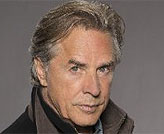 Don Johnson Biography
DON JOHNSON
Date of Birth: December 15, 1949
Actor, director, producer, and musician
Don Johnson
was born in Flat Creek, Missouri. His mother was a beautician and his father was a farmer. By his late teens, Don tried his hand at acting while a senior at South High School in Kansas, when he played the lead role of Tony in the school's production of the Broadway musical
West Side Story
.
Don briefly attended the University of Kansas and later studied drama at the American Conservatory Theatre in San Francisco. His first major role was in the 1969 Los Angeles stage production of Fortune and Men's Eyes, playing the lead role of Smitty. The exposure he received opens up the word of film to the young actor, and he was quickly cast in The Magic Garden of Stanley Sweetheart (1970).
Roles in other films such as Zachariah (1971), The Harrad Experiment (1973) and the cult favorite, A Boy and His Dog (1975) followed, as well as guest appearances on TV series such as Kung Fu and The Rookies, but it wasn't until 1984, when he was cast as undercover detective Sonny Crockett on the series Miami Vice that he became a household name.
Thousand dollar Versace suits, pastel cotton t-shirts, and exotic Ferraris helped Miami Vice revolutionize the police drama genre. The success of the show earned Don an Emmy nomination in 1985 and won him a Golden Globe the following year. Miami Vice ran from 1984 to 1989. The '80s were a busy time for Don, as he also released two pop albums. His single, Heartbeat, reached #5 on the Billboard Hot 100 singles chart.
Don went on to enjoy more fame in 1996, debuting as the star of the detective show Nash Bridges. That same year, he played Kevin Costner's adversary in the golf comedy Tin Cup.
Don's personal life was as much a roller coaster ride as his professional one. He has had four wives in five marriages. His first two marriages were annulled and the names of those wives were never made public. In January of 1976, he married actress Melanie Griffith, but by July, they'd filed for divorce. The couple reunited in early 1989 and married again. They had a daughter, Dakota, who has gone on to become an actress herself. Unfortunately, the marriage ended in divorce in 1996.
Prior to that reunion, Don also had a relationship with Barbara Streisand. The pair collaborated on a song titled "Till I Love You." In 1999, Don married San Francisco socialite and Montessori nursery school teacher Kelley Phleger. The two have three children together.
Don currently stars in the ABC-TV drama Oil, playing Hap Briggs. He also keeps busy with roles in major motion pictures such as Django Unchained (2012) and The Other Woman (2014).
Filmography:
Alex of Venice
(2014)
Cold in July
(2014)
The Other Woman
(2014)
Django Unchained
(2012)
Bucky Larson: Born to Be a Star
(2011)
Machete
(2010)
When in Rome
(2010)
Torno a vivere da solo (2008)
Bastardi (2008)
Long Flat Balls II (2008)
Moondance Alexander (2007)
Goodbye Lover
(1998)
Tin Cup
(1996)
Guilty as Sin
(1993)
Born Yesterday (1993)
Paradise
(1991)
Harley Davidson and the Marlboro Man
(1991)
The Hot Spot
(1990)
Dead Bang (1989)
Sweet Hearts Dance (1988)
Cease Fire (1985)
Melanie (1982)
Soggy Bottom, USA (1980)
Return to Macon County (1975)
A Boy and His Dog (1975)
The Harrad Experiment (1973)
Lollipops, Roses and Talangka (1971)
Zachariah (1971)
The Magic Garden of Stanley Sweetheart (1970)
Filmography