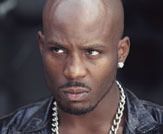 DMX Biography
DMX
Birth Name: Earl Simmons
Date of Birth: December 18, 1970
Native to Baltimore, Maryland, DMX faced a difficult childhood of abuse, abandonment, group homes, alcoholism, drugs and jail.
Rapping on the streets and in clubs of New York, and passing out recordings, he eventually signed on with the Def Jam label.
Opening and appearing with other rappers like LL Cool J and Mase gave him more exposure, and albums such as "It's Dark and Hell is Hot" and the controversial "Flesh of My Flesh, Blood of My Blood" were soon to follow.
The albums sold well, making DMX one of the most recognized rap artists of the '90s.
In 1998 he began taking small roles in feature films.
Debuting as Tommy 'Buns' Bundy in Belly, he went on to bigger and better roles in films like Romeo Must Die (2000) and Exit Wounds (2001).
For a time unable to shake the law, DMX was accused of various crimes including rape and assault.
He has even spent time in jail for swearing at a concert.
A big dog lover, he admits to always owning a dog throughout his life, and even has a tattoo on his back dedicated one of his dogs. He is married to Tashera Simmons and has two sons, Xavier and Tocoma. In 2003, DMX took some time off to devote to his family and the church.
Filmography:
Never Die Alone(2004)
Cradle 2 The Grave(2003)
Exit Wounds(2001)
Backstage(2000)
Boricua's Bond (2000)
Romeo Must Die(2000)
Belly(1998)

Filmography