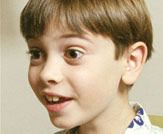 Alexander Gould Biography
ALEXANDER GOULD
Date of Birth: May 4, 1994
Alexander Gould's career took off in 2000 when he was just six years old. He landed a guest appearance on the TV show Freaks and Geeks, another guest appearance on the hit sitcom Malcolm in the Middle, a role in an independent film called Mexico City and was chosen as the voice of Nemo in Disney's feature film Finding Nemo (2003). Animation films take several years from start to finish, so by the time the film was released to theaters, Alexander was already nine years old, with several more credits on his resumé.
He'd completed a recurring role on Ally McBeal as well as guest appearances on 7th Heaven, Family Law, Even Stevens and Boomtown, in addition to the TV movie The Day the World Ended, Wes Craven's feature thriller They (2002) and the independent film Wheelmen (2002). Along with his duties on Finding Nemo, Alexander provided Nemo's voice for the video Exploring the Reef (2003) and for various talking toys.
Since then, he has had a recurring role on the NBC-TV series American Dreams and provided the voice of Bambi in Bambi 2 for a Disney straight-to-DVD project. He also provided a voice for the feature film Curious George and played a supporting role in the live action film How To Eat Fried Worms (2006).
His career continued with a regular role on the TV series American Dreams. In 2005 Alexander was cast as the youngest son of the character played by Mary-Louise Parker on Showtime's comedy crime drama series Weeds. He stayed with the series for eight seasons, until the show concluded in 2012.
Alexander then took 10 months off to spend with the Nativ College Leadership Program through the United Synagogue Youth in Israel. While there, he taught English to elementary school children.
In fall 2013, he enrolled at Clark University in Massachusetts, but in 2015, he transferred to Brandeis University, graduating in 2017 with a degree in philosophy.
He still occasionally acts, having provided voices for Disney's Finding Nemo sequel, titled Finding Dory (2016).
Alexander married Lieba Gould on June 24, 2018. They live in the Los Angeles area.
Filmography:
Finding Dory (2106)
How to Eat Fried Worms (2006)
Curious George (2006)
Finding Nemo (2003) (voice)
Wheelmen (2002)
They (2002)
Mexico City (2000)
Filmography