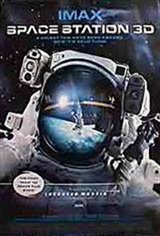 Space Station 3D
Space Station 3D Overview
As astoundingly beautiful as it is technically dazzling, SPACE STATION is the first-ever IMAX 3D space film. It tells the story of the unique partnership of 16 nations building a laboratory in outer space. It stars astronauts and cosmonauts, who collectively have spent thousands of hours in space, building and inhabiting this unprecedented structure. SPACE STATION 3D conveys this adventure on the giant screen.

SPACE STATION is the first cinematic journey to the International Space Station (ISS), where audiences can experience for themselves life in zero gravity aboard the new station.

Narrated by Tom Cruise.