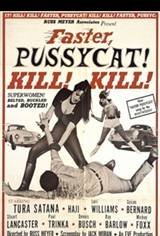 Faster Pussycat.. Kill! Kill!
Faster Pussycat.. Kill! Kill! Overview
Exploitation maven Russ Meyer created a cult classic with this turbo-charged action film. Three curvaceous go-go dancers in a cool sports car go on a desert crime spree, led by Varla (the amazing Tura Satana), a busty, nasty woman dressed entirely in black. Varla's lesbian moll, Rosie (Haji) -- who has an extremely overwrought accent -- and reluctant bimbo Billie (Lori Williams) are along for the ride. When they meet a naïve young couple, Tommy and Linda (Ray Barlow and Sue Bernard), Varla challenges the man to a race then kills him by breaking his back. They take Linda hostage and drive to a house owned by a crippled old lecher (Stuart Lancaster) and his muscular but retarded son, Vegetable (Dennis Busch). Varla discovers that the old man has money hidden on the property, so the girls try to find it. Meanwhile, Vegetable's perverted father tries to trick him into assaulting one of the girls as he watches, but his other son (Paul Trinka) finally shows up to save the day. A great deal of bloodshed, campy catfighting, and funny dialogue fills the bulk of this fast-paced comic book of a movie.