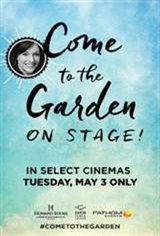 Come to The Garden - On Stage!
Come to The Garden - On Stage! Overview
Fathom Events and Eakin Films bring Jennifer Wilder Morgan's inspirational narrative, Come to the Garden - On Stage!, to select cinemas nationwide for a special one-night event on Tuesday, May 3. Enjoy an engaging evening with Jennifer as she interacts on stage with animated characters and scenery from her book, Come to the Garden. Featuring character voiceover performances from Emmy-winner and Today Show host Kathie Lee Gifford, Academy Award®-winner Louis Gossett, Jr. (voice of God), and popular faith comedienne Chonda Pierce (humorous angel who guides Jennifer). This exclusive event also includes a post-show discussion with Jennifer and author of The Shack, William Paul Young.