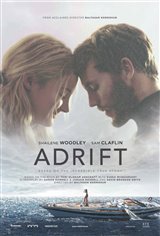 Adrift
Adrift Overview
Tami Oldham (Shailene Woodley) and her boyfriend Richard (Sam Claflin) are avid sailors who decide to travel 4,000 miles by sea to California. On the way, they run into a catastrophic hurricane. As they dive for cover below deck, Tami is knocked unconscious. When Tami awakens, she finds their boat is in ruins. She tries to fix the damages, but can't locate Richard.

She eventually discovers him floating on driftwood and drags him back to the boat. However, he's too injured to help her. Holding little hope for rescue, Tami must find the strength and determination to save herself and the only man she has ever loved.

Based on the memoir Red Sky in Mourning: A True Story of Love, Loss, and Survival at Sea by Tami Oldham Ashcraft with? Susea McGearhart.