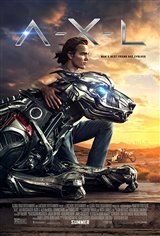 A.X.L.
Score:
8.83 / 10
Released:
August 24, 2018
Director:
Oliver Daly
Producer:
Gary Lucchesi, Tom Rosenberg, Eric Reid, Richard Wright, Kevin Turen, David S. Goyer
Studio:
Open Road Films
Cast:
Alex Neustaedter, Becky G., Alex MacNicoll, Dominic Rains, Thomas Jane
Genre:
Sci-Fi/Fantasy
Length:
100 minutes
write a review | read reviews | photos
watch the A.X.L. trailer
A.X.L. Overview
Max (Alex Neustaedter), a down-on-his luck teenage bike rider, stumbles upon an advanced, robotic military dog named A.X.L. After forming a bond, they go on the run together with Max's crush Sara (Becky G) to save A.X.L. from being captured by the rogue military scientists who created him.